an easygoing, elegant, wipe-clean rug!
An easygoing, elegant, wipe-clean rug from Love a Duck underneath your dining table cleans up all the way from appetizer to desert, whether you gather family and friends or go about your daily home office and parenting duties.
Each rug features a thoughtfully-designed original pattern. Choose from a range of beautiful colors from light to lush to help celebrate your dining area as a central place in your home.
The protective top coat on every rug shields the surface as well as the flooring underneath against any spills or crumbs so no stains stay behind.
The top coat also makes the rug inhospitable to dust and mites, finally offering a decorative textile solution to people suffering from allergies.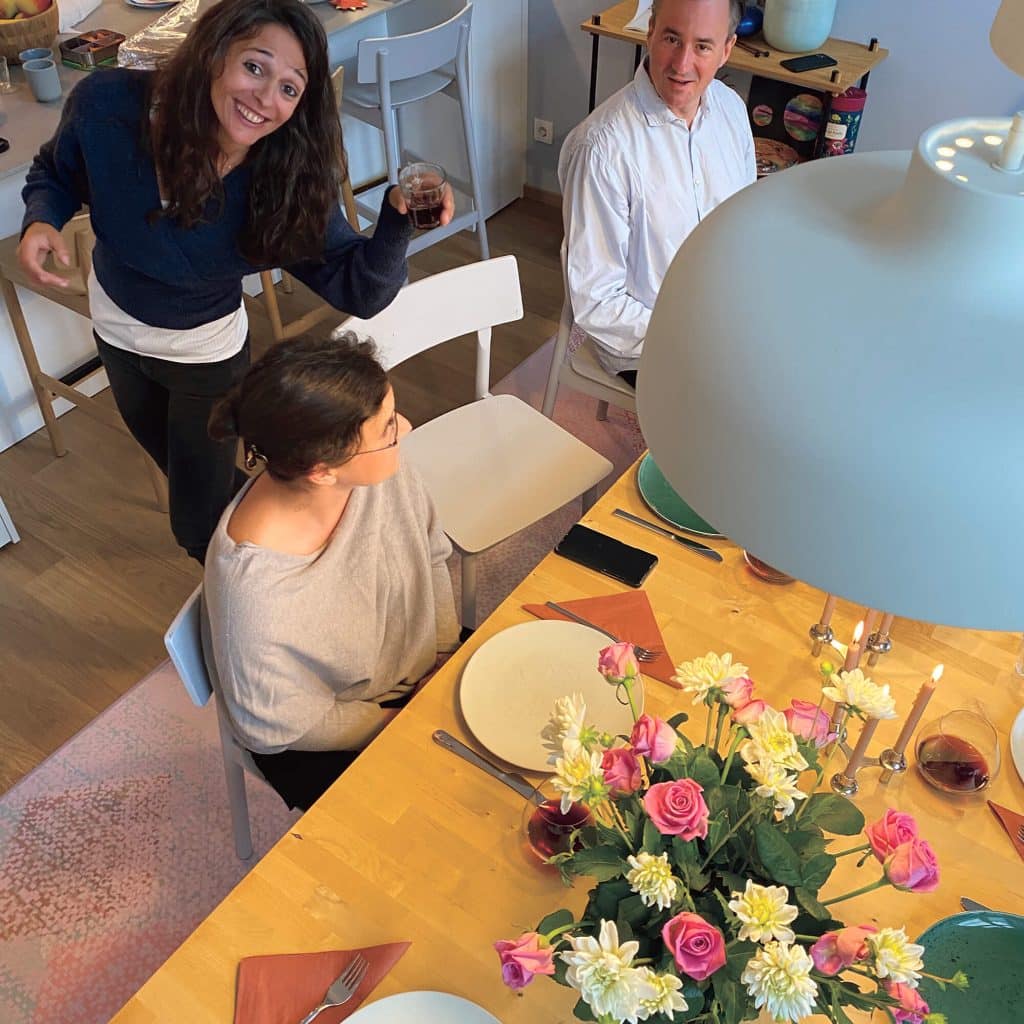 RUG MAGIC FOR EVERY OCCASION...
The origin story of Love a Duck is flavored with fond memories of meals shared at our family table. (And, no, we were not glued to our smartphones even though Love-a-Ducks are perfect for distracted diners!)
To our lively dinners we invite everyone big and small, family and friends, young and old, with their varying physical and emotional needs and conversational interests. We cherish every chance we get for our guests to settle in, share meals, and enjoy each other's company.
Love a Duck wipe-clean coated cotton rugs are ideal companions for communal dining. Their colorful original designs highlight the dining area as a special place in your home. And, due to their smooth top coat, they clean up before, during and after meals with the swipe of a cloth.
Everyone can join in a lovely meal around the same table and on the same rug, be they seated on a highchair and experimenting with apple sauce or entertaining old friends at a relaxed dinner party.
Fitting cooking, dining, and living into a single room, open-plan-living has very much become the norm in modern homes. As such, the "family" in "family table" is so much more than one plate and one cup for each person. It is a whole array of different activities scattered across the tabletop from early morning till late at night. The youngest puzzle and paint at the table, schoolchildren do homework and art projects, adults carve out desk space for home office hours.
A Love a Duck coated dining room rug helps you set the table for every (possibly messy) activity without the fear of having to redecorate the whole room afterwards. In most cases, a brief sweep or quick swipe will be enough—even your three-year-old can do it!
Have a sunny breakfast with your kids in the morning, sit with them to complete a quiz or prepare some sandwiches for snack time, invite your partner over for a focused business lunch and a Zoom meeting thereafter, sip your afternoon tea while checking email, enjoy an elegant dinner with your guests at night … (you fill in the dots).
(By the end of the week, one end of our dining table is covered with the results of all these varied activities, requiring near archaeological zeal to excavate, sort, and tidy—only for the process to start all over again. We give credit to our Love a Duck rug's beauty and resilience for energizing us to straighten out our mess again and again).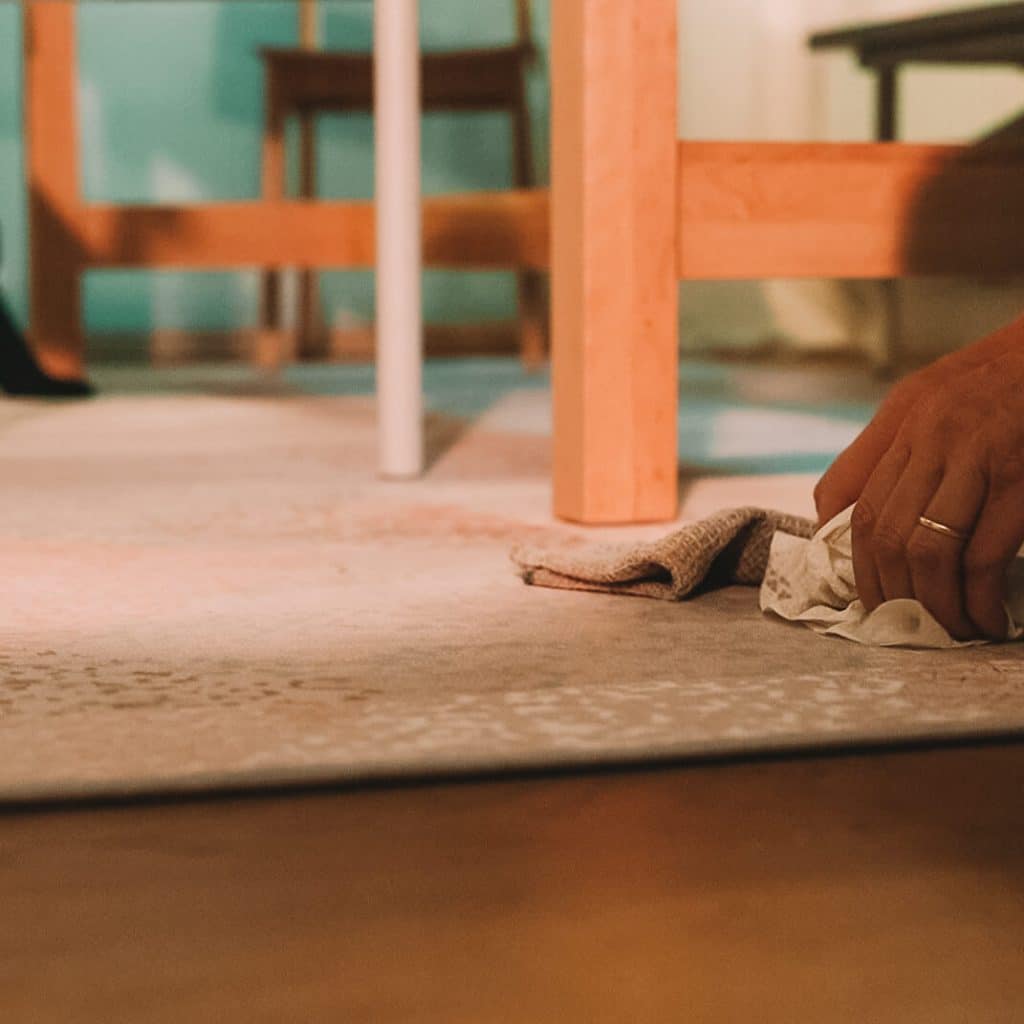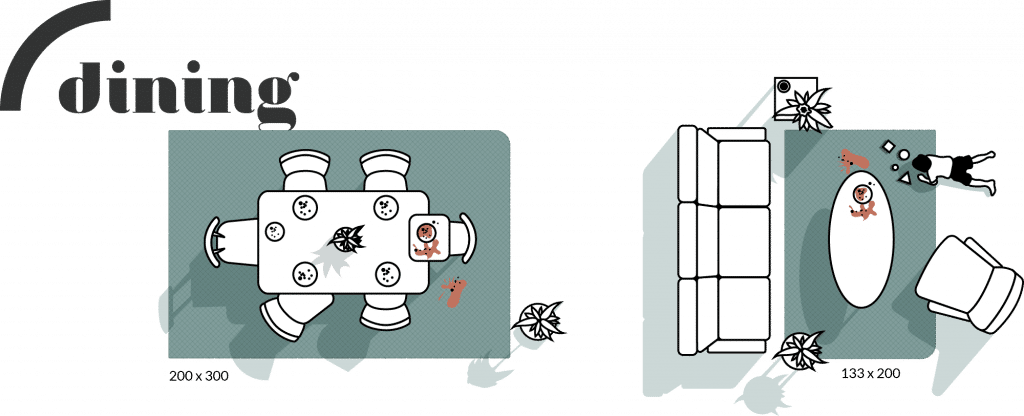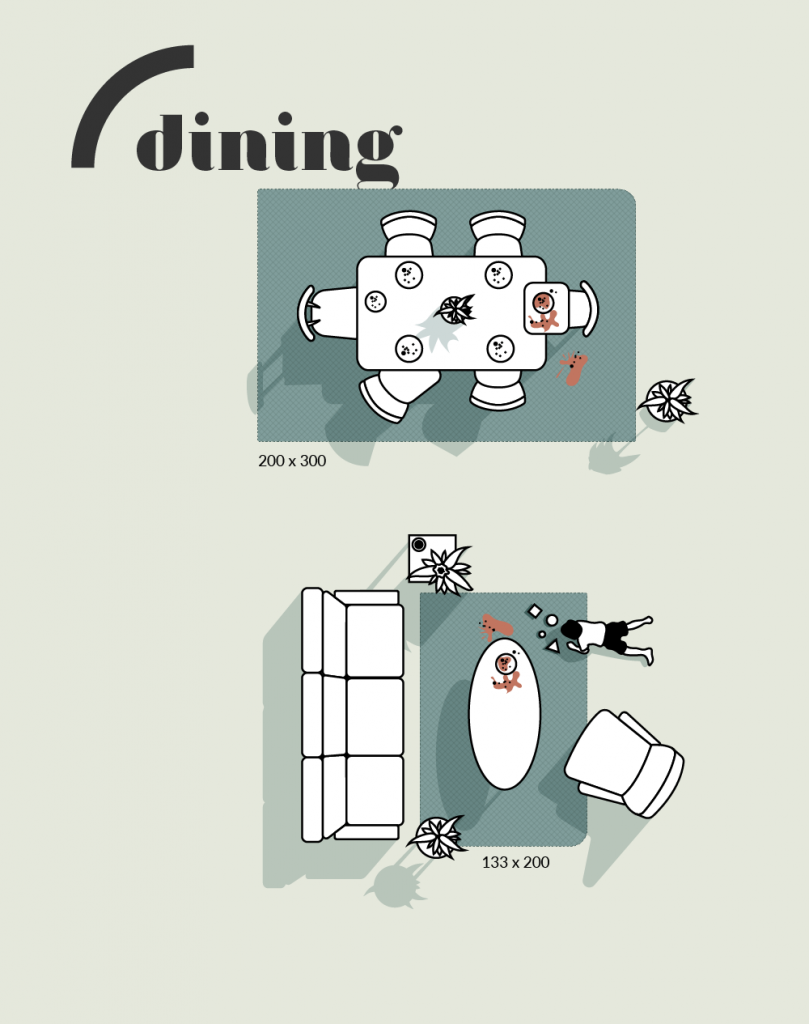 For underneath the dining table we recommend you choose the biggest possible rug size. You might even want to double up for a more dramatic visual effect and additional protection underneath a large table fitting six to eight people or more.
LOVE A DUCK L SIGNATURE RUG
200 cm x 300 cm
MORE RECTANGULAR FORMATS
133 cm x 200 cm
150 cm x 200 cm
220 cm x 330 cm
Favorite patterns and color variations
Our selection of fine rug designs is sure to make your dining area shine.
The painterly "Paris" and "Vienna" versions in our To the Sun collection, in particular, enchant every space with their poetic design. More abstract and equally stunning, the pastel "Darley" and the deep berry "Dajani" rugs in our Orientalis collection are also highly recommended if you wish to sweep guests off their feet.
Cannot find exactly what you are looking for in terms of color range or size? Please reach out to us here for a customized version.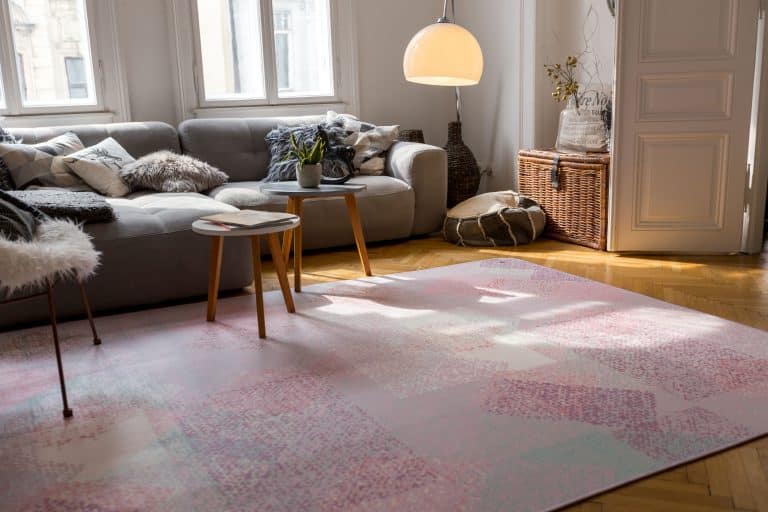 1. Double up for a bigger splash of color and style! To fit the grandest dinner parties, we recommend placing two rugs side by side. Two Love a Duck rugs in size L give you a total of up to twelve square meters of beautiful, carefree style. For true boldness, mix and match patterns and colors.
2. Don't squish your rug all the way into the corner. When you have a dining room set featuring a bench or even a corner bench along one or two sides, move only the front legs onto the rug. It'll make everything look lighter and airier.
ALLERGIES? NO NEED TO BLESS A SNEEZE.
If you suffer from dust mite allergies, a Love a Duck rug might be just right for you. Our floor coverings feature a bottom layer made of premium wool-blended felt and a cotton canvas face adorned with your favorite pattern. Covered by a protective top coat, the rug prevents dust and mites from settling in. You can finally live safely and beautifully with wool and cotton underfoot.
As a household with two members suffering from dust mite allergies, we cannot tell you how much we appreciate living with hypoallergenic rugs that brighten up our rooms and stay fresh all day long.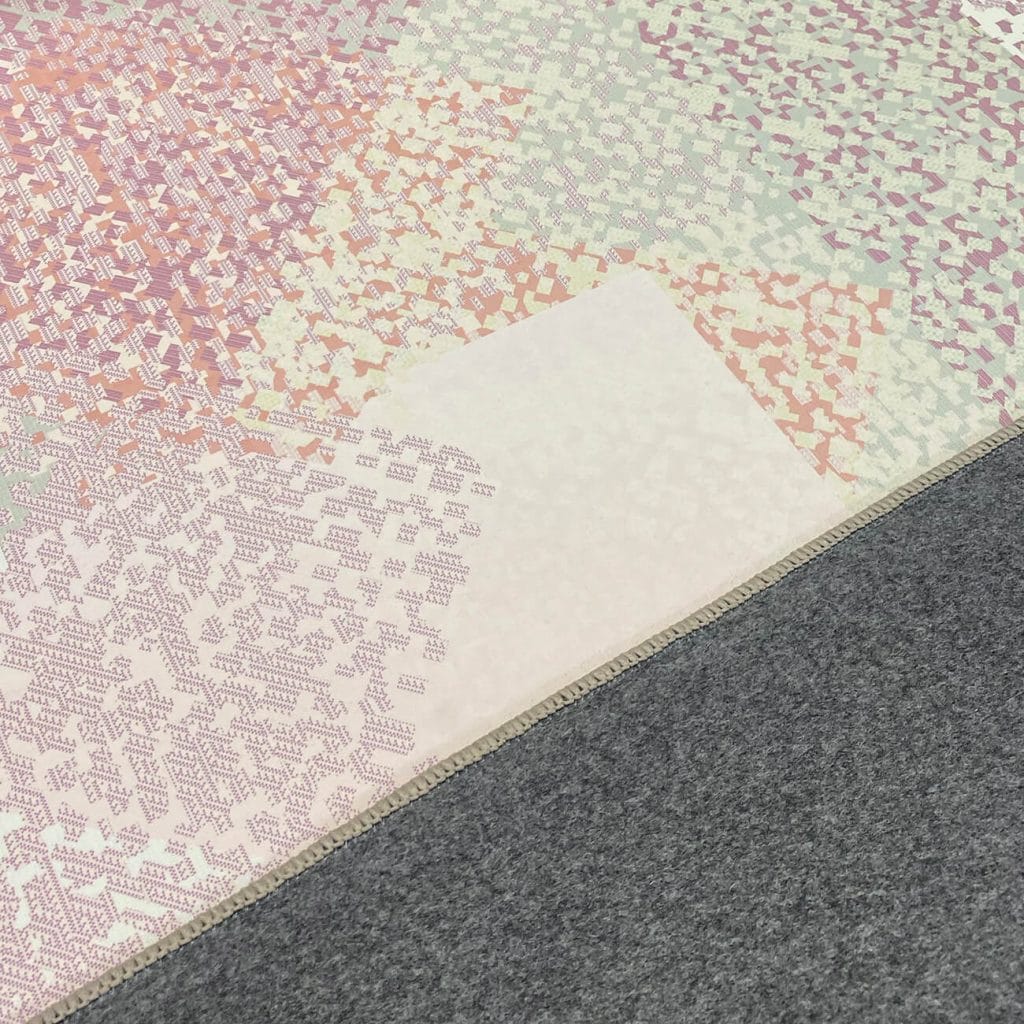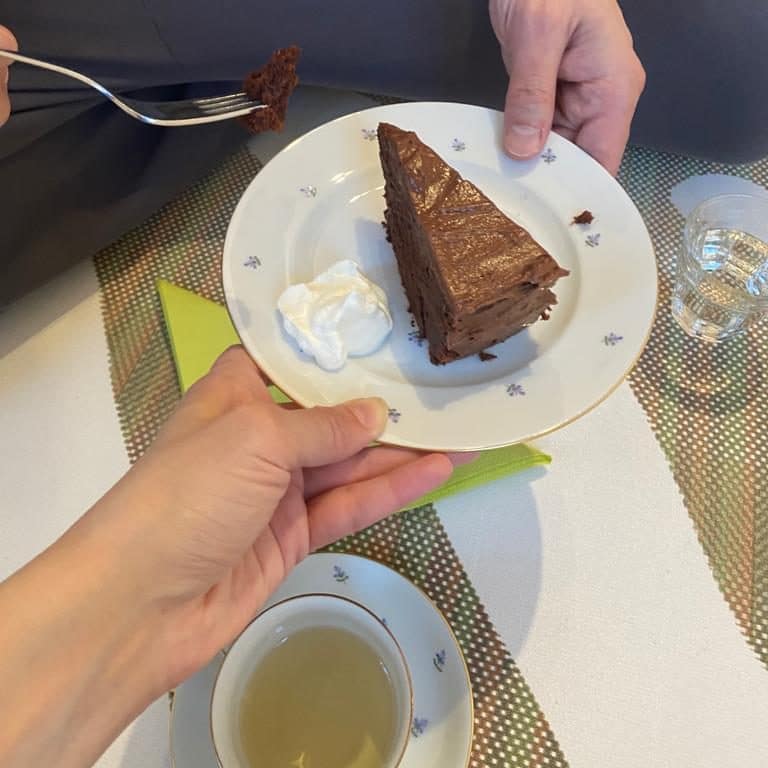 We live in the heart of Vienna in a typical rental apartment dating back to the late 19th century. When it is wet and grey outside, when park benches turn damp and meadows are dotted with puddles, we like to move our usual lawn-bound activities to the large Love a Duck area rug that covers much of our living room floor.
We adore this rug—it is our prototypical To the Sun "Vienna"—and I, for one, cannot imagine not having it there. The subtle, well-rounded color scheme looks gracious, and really centers the space. To me, it is home. I use it regularly to practice Qigong and to meditate. Patrick likes to finish the day there, spooling off his routine of physical floor exercises.
The rug also makes for an ideal indoor picnic blanket, serves as a soccer field one afternoon and a dance floor the next (we spontaneously host barefoot and bare-paw disco dances inviting all of our son's stuffed animals).
Make your Love-a-Duck the destination for your rainy-day activities. Play a board game, do a handstand, host a picnic when the great indoors beckon!