What pets love about Love-a-Ducks
The wool-blended felt backing adapts to body temperature so animals feel comfortably warm and don't overheat.
Our specially developed top coat on the flat-woven canvas ensures that claws don't get stuck.
What pet owners love about Love-a-Ducks
Our cotton canvas rugs feature thoughtfully designed patterns in a broad range of colorways to match any personal style.

A premium PU top coat shields against fluff, wet, dirt or stains. Simply sweeps up or wipes off just like a wooden or tiled floor.
Make a home with grace ...
Our beautiful coated cotton rugs clean up with the swipe of a cloth.
No compromise on personal style while risking to ruin your floors by going rug-less.
You don't need to settle on vinyl or PVC mats to keep things manageable.
There is no need of laborious cleaning routines to maintain the floor textiles in the most used areas.
Simply enjoy your pet, your personal style, and a clean house too.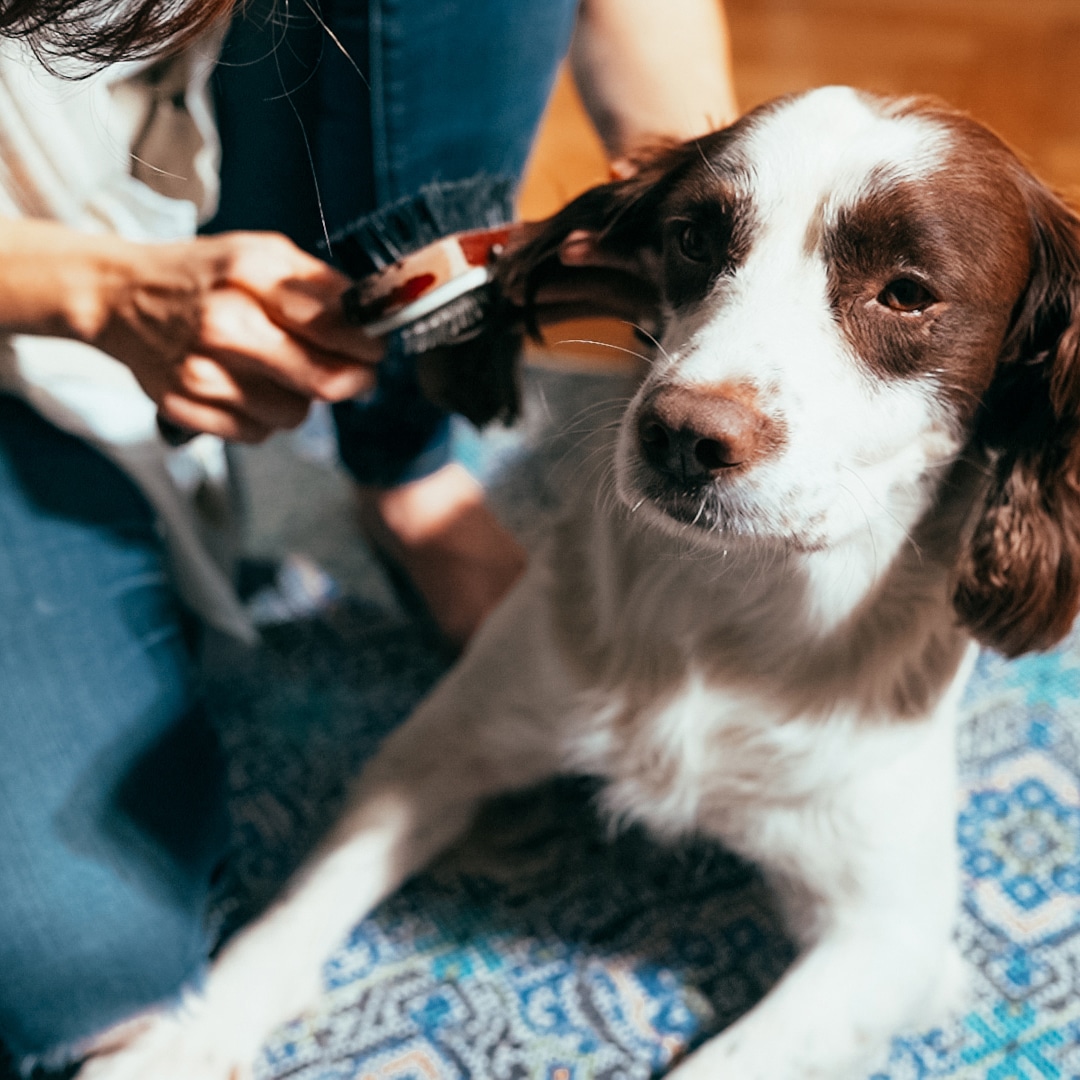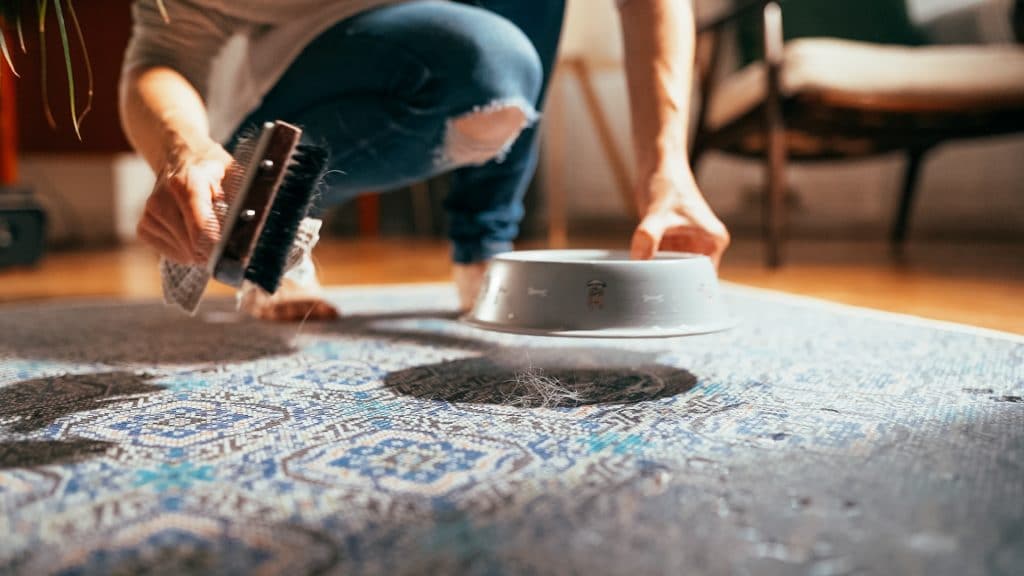 ... and take care of it with ease
Hallway, kitchen, dining area: we believe that those areas in your home that are constantly at the center of activity and attention need lasting protection and easy maintenance. They are, after all, most vulnerable to soiling and staining.
We say YES to:
brush or broom
the vacuum cleaner
a damp cloth
a little soapy water
We say NO to:
the washing machine
over-the-counter spot cleaners
professional carpet cleaning
The regular care of a Love-a-Duck requires little money, time, effort, energy and chemistry. All you need is a couple of minutes, a damp cloth, and possibly some mild soapy water.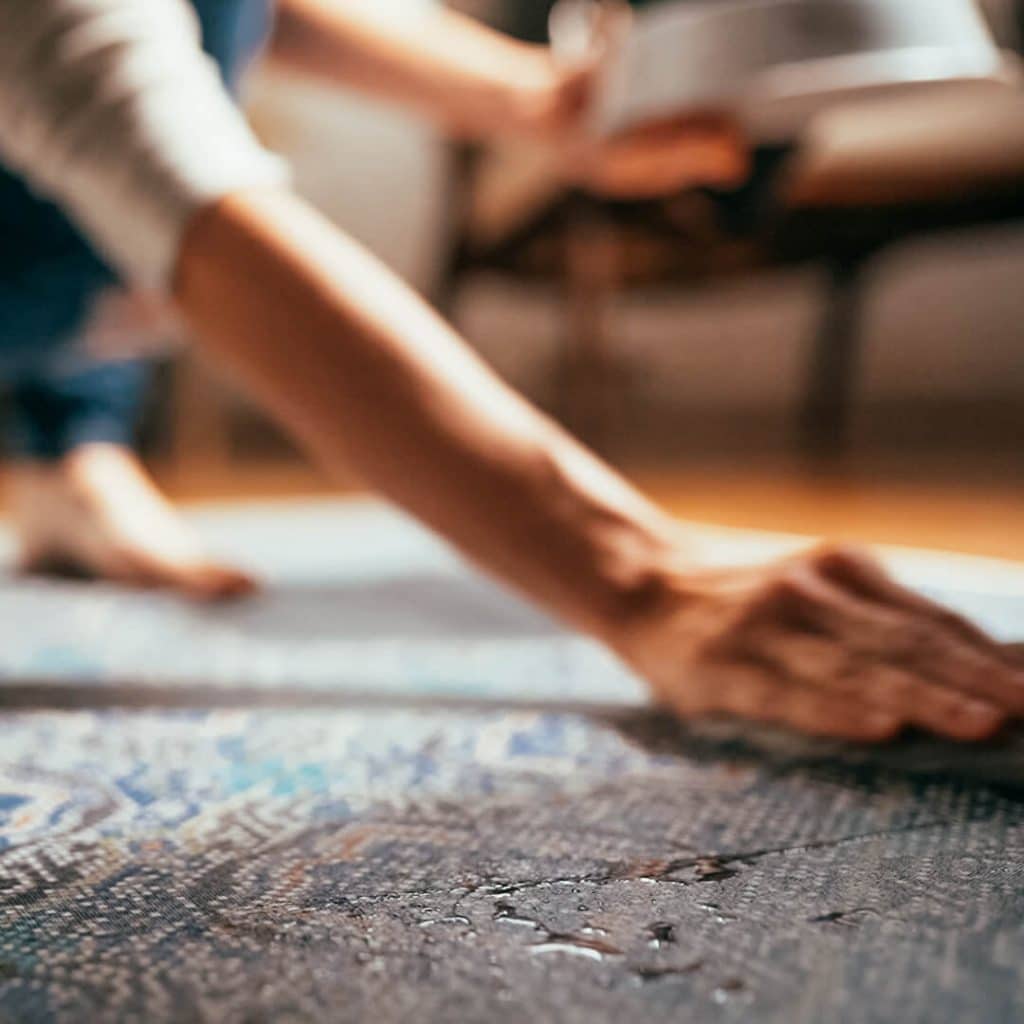 Favorite patterns and color variations
You can choose rug colors that coordinate with the color of your pet's fur for those zones that are his or her primary habitat. During shedding seasons, lighter colors help hide the hair produced by light-manes while darker colors work well with darker manes.
Then again, Love-a-Ducks are so easy to clean: do as your hairdresser does! Choose your favorite pattern in your favorite colors regardless of your pet's coloring and simply sweep up any new hair in between your regular house cleaning routine.

Small and medium size rugs are versatile options that easily travel from place to place should you choose to relocate your pet's personal zone at a later point in time.
Our 120 cm x 120 cm square starter size works really well as a compact personal space with bed and bowls for a small- to medium-sized pet.
For larger pets, we recommend our medium size rugs. Select the practical and pretty 133 cm x 200 cm or our larger 150 cm x 200 cm formats.
If you are looking to pet-proof larger areas in your home — for instance, in the dining and/or living areas, we recommend choosing out Love a Duck L signature rug in 200 cm x 300 cm.
In each case, your Love-a-Duck multitasks as a beautiful eye-catcher and an ideal mess-catcher. Gorgeous and gallant all at once.
SMALL SQUARE
120 cm x 120 cm
RECTANGULAR FORMATS
133 cm x 200 cm
150 cm x 200 cm
LOVE A DUCK L SIGNATURE RUG
200 cm x 300 cm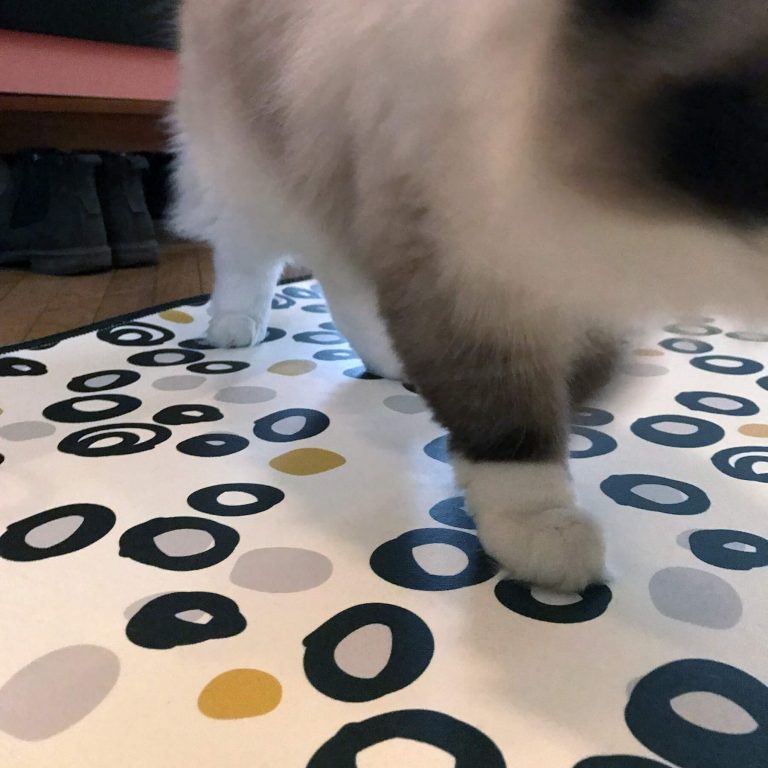 1. Pick a place. From coffee mugs and shoes to animals and their friends, anything you invite to live in your home needs a place to stay. Choose a suitable spot for your pet's personal place and cover it with a well-sized Love-a-Duck. You can arrange their bed on it, and, if it is where your pet will eat, place water and food bowls on either side.
2. Cosy and quiet. Cats and dogs both need a protected and quiet place in the house that is not draughty. Dog beds should also not be directly exposed to sunlight or a radiator. Cats prefer cave-like accommodations, such as a tree house or a covered bed, to relax and feel safe. While neither cats nor dogs should be relegated to sleeping in the middle of a busy hallway, both (but dogs in particular) need to be in eyesight of their human "tribe" to feel content.
3. Water and food. Domesticated quadrupeds still carry the memory of pre-domesticated life in their DNA. They like to have their water and food bowls set apart from each other and at a distance from the nearest wall. This way, they can eat or drink without cross contaminating food and water sources. And they can eat and drink while keeping their backs positioned against the protective wall and their eyes firmly on the environment.
Smooth ducks and soft pile
A Love-a-Duck rug offers the ideal combination of looks and practicality in those well-treaded places you share with your pet. But we don't want you to ban other types of rugs from your home: sinking your toes into soft pile can be a wonderful experience!
Our rugs blend in effortlessly with the beauty of other floor textiles in your home that might be too delicate and off limits for your pet.
A chic and wipe-clean Love-a-Duck in the dining area serves as a colorful contrast to a thick cream-colored pile visible through the master bedroom door. A Duck's organic shapes cheekily play off the regular pattern of a Scandinavian flat-weave in front of the bookshelf. Its smooth surface distinguishes it nicely from the soft sheep's wool rug in front of your sofa or plays off the faded heirloom kelim in the back of your hallway.
Mix and match. It's really up to your personal needs and stylistic preferences.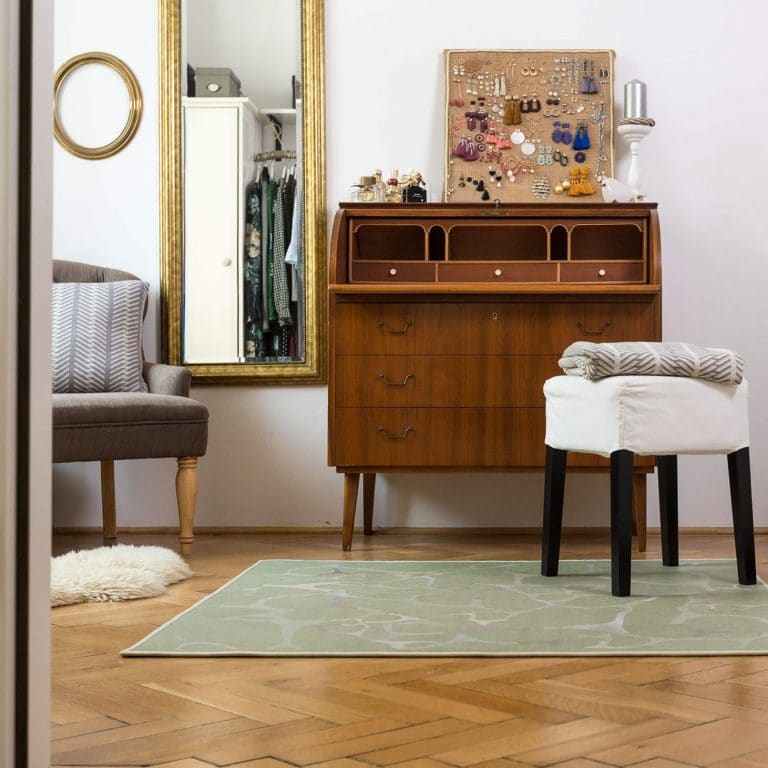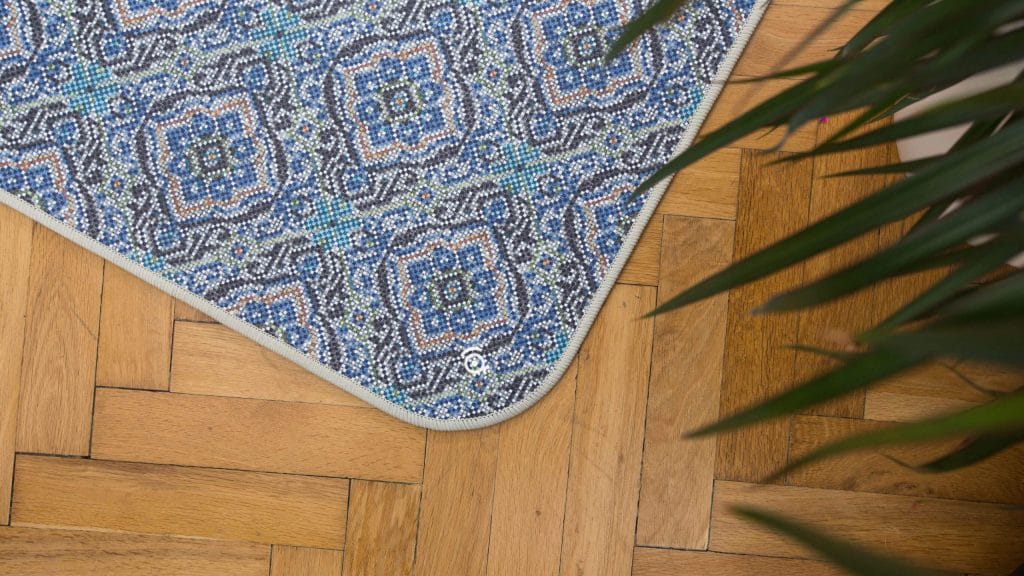 how to make it home from the dog walk
without bringing absolutely everything home with you!
OUR 3-ZONE HALLWAY SOLUTION

ZONE 1
What: the shoe scraper
Where: in front of the house entrance
Why: A permanently installed shoe scraper made of basic metal grating or a ribbed version consisting of metal grating with a brush profile helps to effectively remove the rough stuff such as gravel and chunks of earth. It's also the ideal place to shake rain water off coats, boots and umbrellas.


ZONE 2:
What: the brush-profile doormat
Where: in front of your apartment entrance or right inside your house entrance
Why: A common doormat, for instance made of coconut fibers, helps to brush off fine residue such as sand and any remaining dirt as well as excess rain or snow that's gotten stuck in the depths of your boot's sole. In the winter, you can place a matching, washable cloth on top of the doormat, simply to catch even more remaining dirt and wet.
ZONE 3:
What: the Love-a-Duck
Where: in your main entrance area and/or hallway
Why: A Love-a-Duck helps protect your floor against footprints and those typical small puddles that form around everyone's shoes and paws once they have finally made it into the warmth of your home.
A Love-a-Duck also softens your arrival by brightening up your hallway and creating a stress-free zone where you can take your time to conveniently and comfortably towel down your dog.
Always follow Newton's law by working along the pull of gravity: first use the towel on the dog – head to paws, then on the Love-a-Duck. If necessary, finish by wiping up the area on the rug with a damp cloth, adding a little soap for a fresh scent.
Love-a-Ducks function as an ideal segue into your personal sanctuary. Whether or not you share your home with a pet, your Love-a-Duck ensures you enter your home with ease and grace. And when you are ready to leave, it sends you off in a relaxed and happy mood and bids you a good day!