Wipe-clean coated cotton rugs from Love a Duck bring grace and ease to any family home. They are also hypoallergenic. And they are great fun. Simply enjoy the moment. The rugs take care of the rest.
Why kids love our wipe-clean rugs
The patterns instantly become roadways, soccer fields, artist's studio, or picnic blankets, whether situated in the child's room or on the kitchen floor.
Play is encouraged rather than interrupted.
Accidents are gone in the swipe of a cloth.
Why parents love our coated-cotton RUGS
Eager play pals, our rugs double up as definitive elements of style in your beautiful home.
Kids at play? No need to trouble the mind or busy the washing machine. Simply brush off or swipe up.
Save energy, laundry detergent, water and electricity.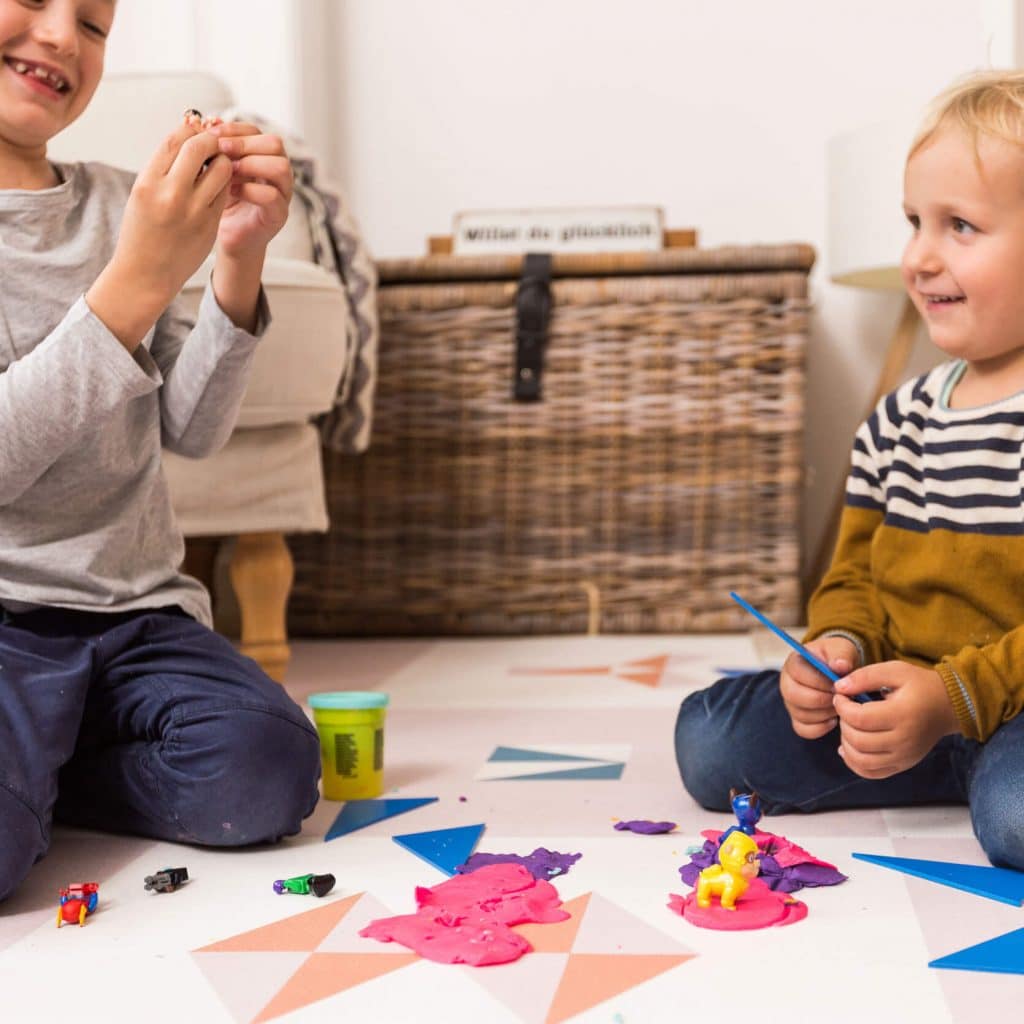 LASTING RUGS FOR CHILDHOOD PLAY
At Love a Duck we have made it our mission to create lasting floor coverings that make easy and graceful companions as you and your kids go through "thick and thin".
Our rugs offer the kind of laidback and elegant support that instantly caters to playful activity, quiet concentration, and peaceful relaxation.
Whether placed in the play corner, the living room, or the hallway, each rug is able to fulfill as many different purposes as you and your kids can dream up.
Playing board games, laying puzzles, testing the limits of building-block architecture, jumping a round of hopscotch, working on art projects, inventing a barefoot dance, building fantastical miniature cities, riding wooden trains and running marbles down the longest and steepest tracks are just a few of our favorite examples. And if things get messy, simply brush, vacuum or wipe the surface clean.
Just make sure, please, to keep sharp objects and permanent markers away from Love-a-Ducks. The rugs are really cooperative in many ways but not invincible. Follow our user guidelines (see FAQ) and treat them with kindness and common sense as you would any good friend.
We know that childhood is all about change and transformation. As children grow, their needs change, their creativity flourishes, and their radius of activity circles wider. Love a Duck rugs are designed with this growth in mind.
Our rugs are created to go the distance with you and your family. The patterns are intended to be timeless so a young child suddenly turned teenager won't feel embarrased to have friends over because everything looks like it jumped out of that cartoon that was all the rage five years ago.
Kids may have built wood-block towers, pushed babydoll strollers around and played hopscotch. Suddenly they are teenagers playing Minecraft, staging push-up competitions and taping the latest dance moves for instant publication on TikTok.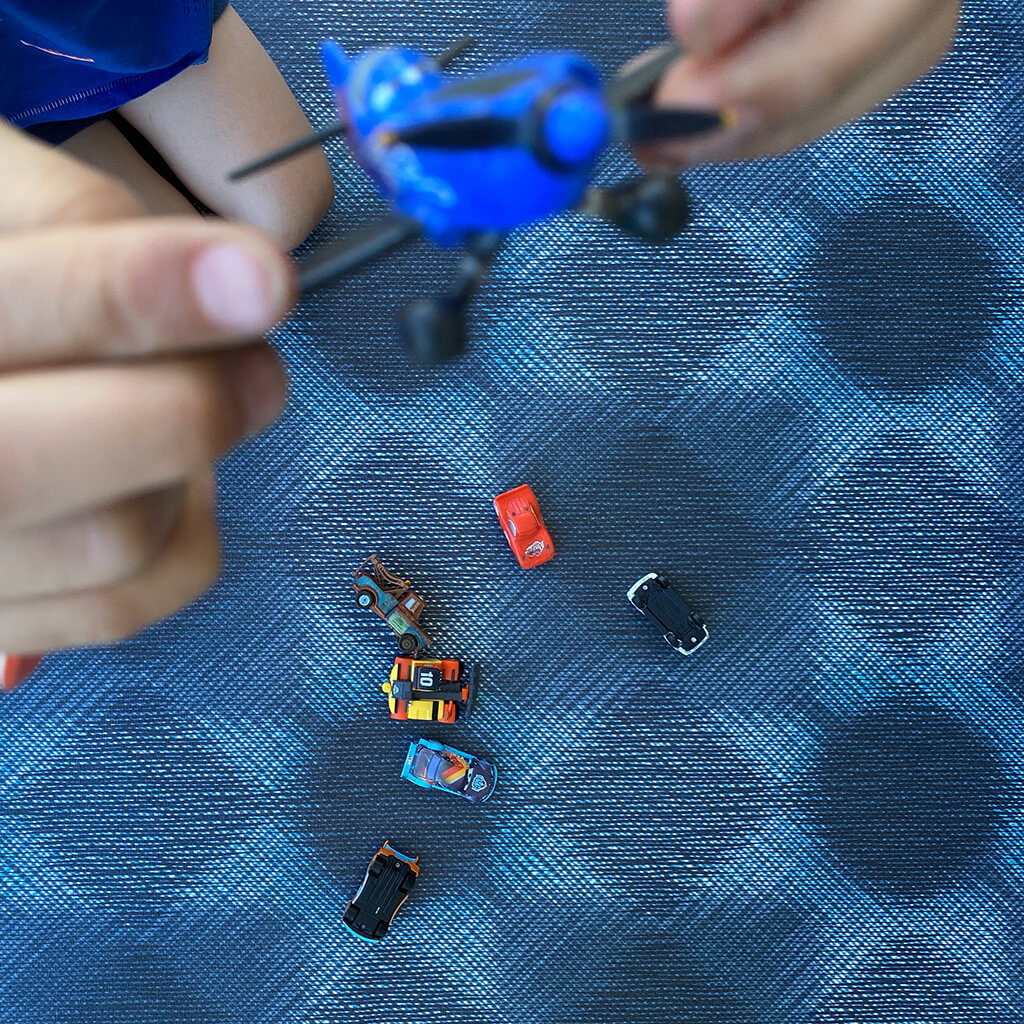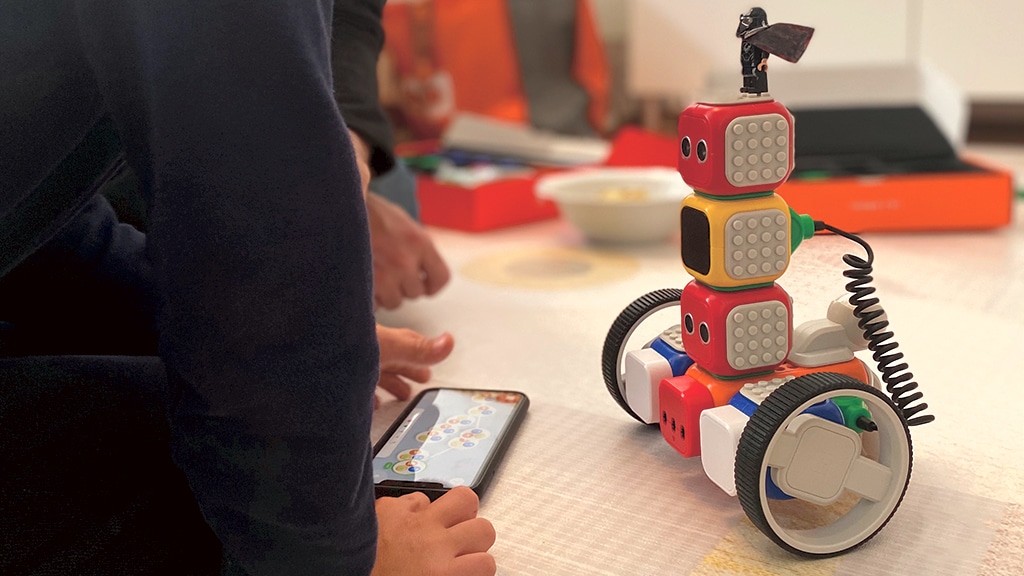 Patterns beyond prescription
At Love a Duck, we take pride in offering a beautiful variety of pattern designs that complement your personal style and support your child's physical and mental development well beyond the "play rug" phase. Plus, clean-up is a snap.
When the first prototypes of our coated cotton rugs with designs by the wonderful illustrator Lilly Panholzer began to circulate around our apartment—taking turns in the hallway, the kitchen, our son's room, and the living room (at one point forming a new tradition as the stylish protection underneath our Christmas tree), our son danced along the patterns, merging the rhythms of his favorite songs with the printed sequences of shapes and lines. He built Lego cities and soccer fields using the patterns as grids and field demarcations.
This practical and poetic insight has helped us shape our approach to rug design in important ways. It is not necessary to completely avoid typical children's rug patterns, but it is rewarding to create ones that support rather than script childhood play and that are pleasing to adult eyes as well (inviting us to sit down and join the fun).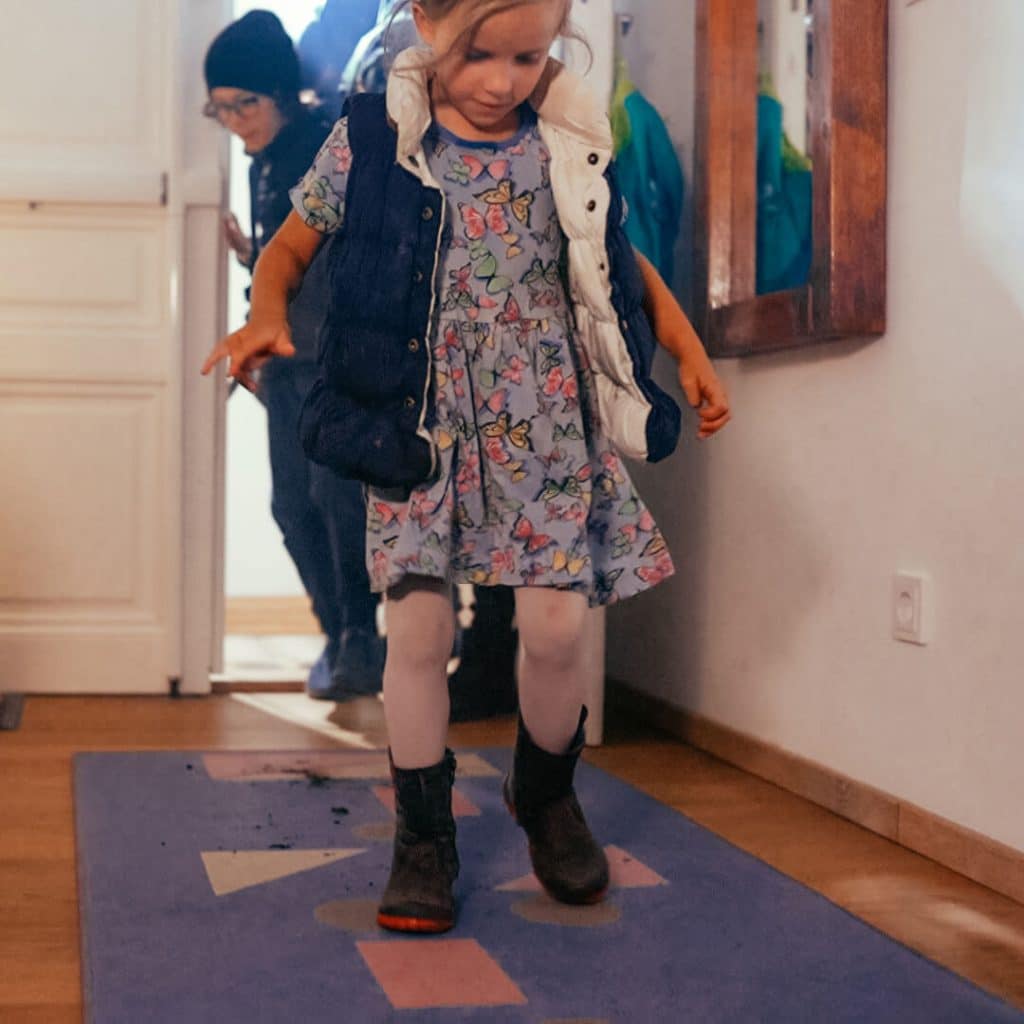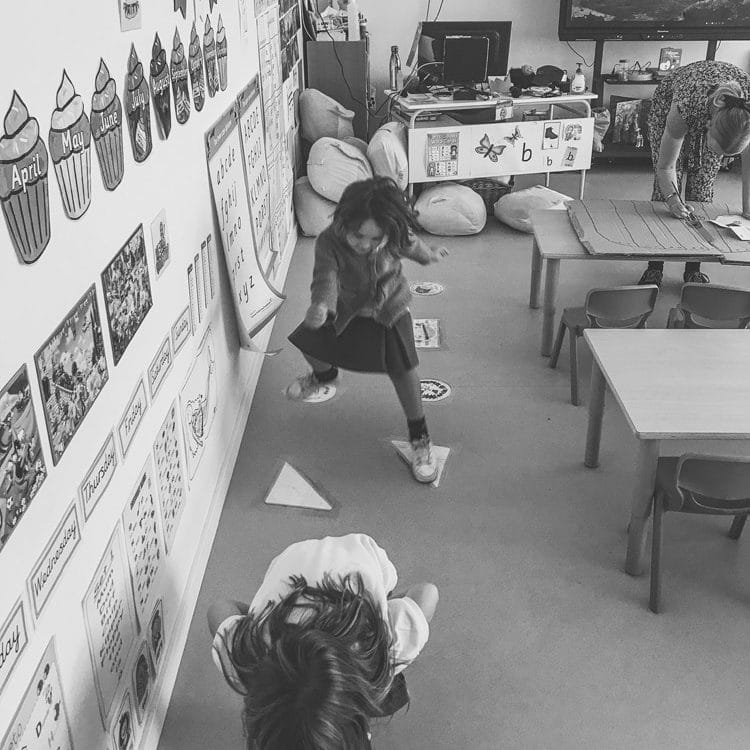 Favorite patterns and color variations
Our intention is to top our wipe-clean rugs with patterns that engage and delight; that work for all members of the family, including the smallest – while being sophisticated enough to accompany us all throughout various life-stages.
Follow Me is a great example and one of our favorite patterns. It was designed by Austro-American designer Jesse Greulich around variations on a hopscotch sequence.
Jesse created an art lesson to test the design with her six-to-seven-year-old pupils at the Nobel International School of The Algarve at the Almancil Campus in Portugal. The design is now available in a lovely range of color schemes with names such as "Utopia", "Momo" and "Andale."
Wild Things, Jesse's second pattern, also provides subtle visual structure and focus, this time along an organic maze of intertwined branch-like shapes. The shapes leave it open to the user to trace and connect during play (for instance with matchbox cars) or to simply enjoy as a practical piece of art that adorns the home.
Both patterns follows design guidelines for people living on the autism spectrum.
The Caddo collection was designed by California-State-University trained graphic designer and Montessori pedagogue Anna Breitenberger. Anna teamed up with her daughter on the project. Together, they experimented with Maria Montessori's set of twelve blue triangles.
The result is a classic checkerboard pattern featuring a selection of geometric shapes made up of triangular elements in different color variations. The shapes can be played with by placing the original blue Montessori triangles on top of them – and new combinations can be invented on the spot.
Together, our original patterns respect and support your child's personal imagination rather than telling him or her how to play. As the loving adult in the room, you won't see them solely as "play rugs" because they do not feature typical train-tracks or cityscapes. They are made to stay beyond childhood by pleasing users of any age.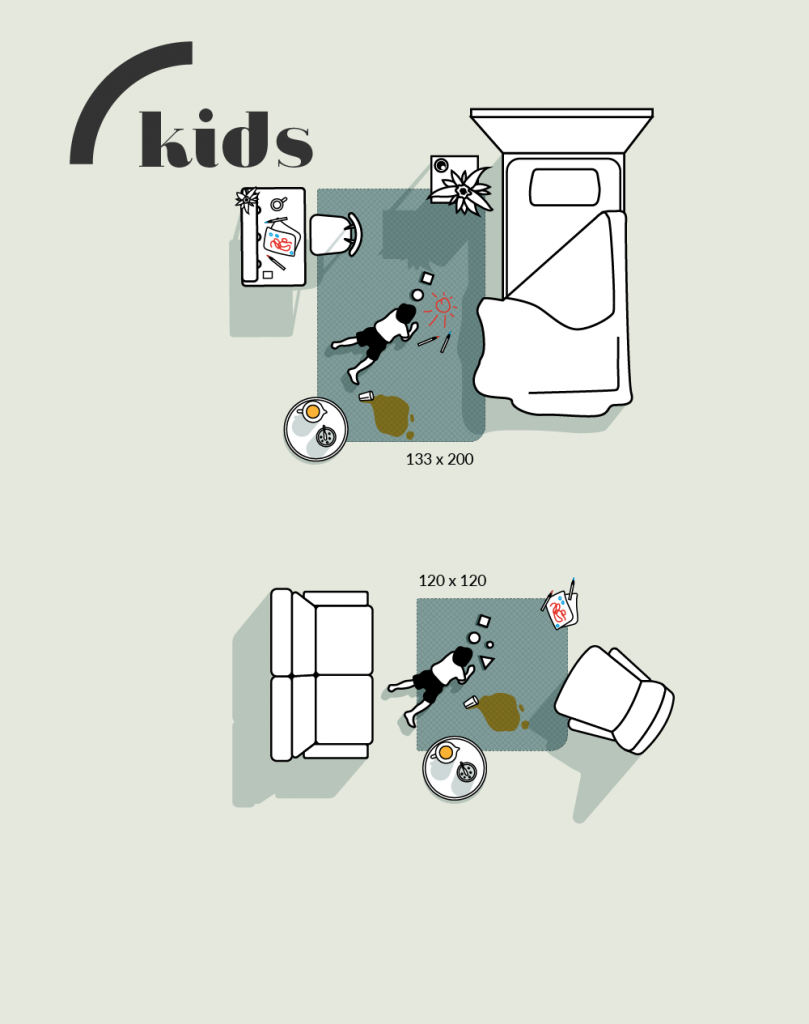 Our small square 120 cm x 120 cm format work is a great introductory size for underneath the highchair. It can then continue its life as a play rug or a welcome mat.
Our 200 cm x 300 cm Love a Duck L signature rug helps you achieve a complete transformation. It catches everyone's mess while upgrading your space visually.
Whichever choice you make, your rug is sure to make your whole space shine!
SQUARE FORMATS
120 cm x 120 cm
200 cm x 200 cm
RECTANGULAR FORMATS
133 cm x 200 cm
150 cm x 200 cm
LOVE A DUCK L SIGNATURE RUG
200 cm x 300 cm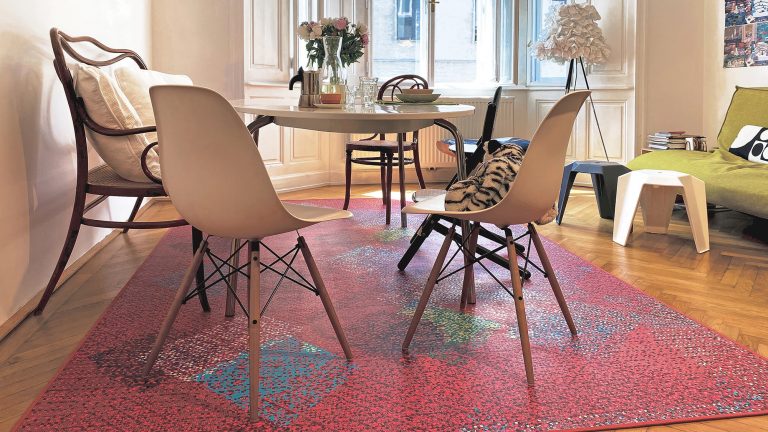 1. Choose versatility! Consider adding a rug pattern and format to your home that can be used in different capacities, as a kitchen runner, play rug or hallway rug. Then you can try your Love-a-Duck in different areas of your home and easily adapt it to new or different uses.
2. Go grand! If you are anything like we are and don't want to have to constantly reorganize your home around the changing needs of your children as they grow: go grand underneath the highchair and cover everyone around the dining table long-term with our largest 200 cm x 300 cm size.
Love-a-Ducks are hypoallergenic
You or your loved-ones suffer from dust mite allergies? Appease the sneeze and create a beautiful, serene home with an allergy-patient-friendly Love a Duck rug.
Our floor coverings feature a bottom layer made of premium wool-blended felt and a cotton canvas face adorned with your favorite pattern.
The protective top coat prevents dust and mites from settling in so you can finally live safely and beautifully with wool and cotton underfoot.
As a household with two members suffering from dust mite allergies, we cannot tell you how much we appreciate living with hypoallergenic rugs that brighten up our rooms and stay fresh all day long.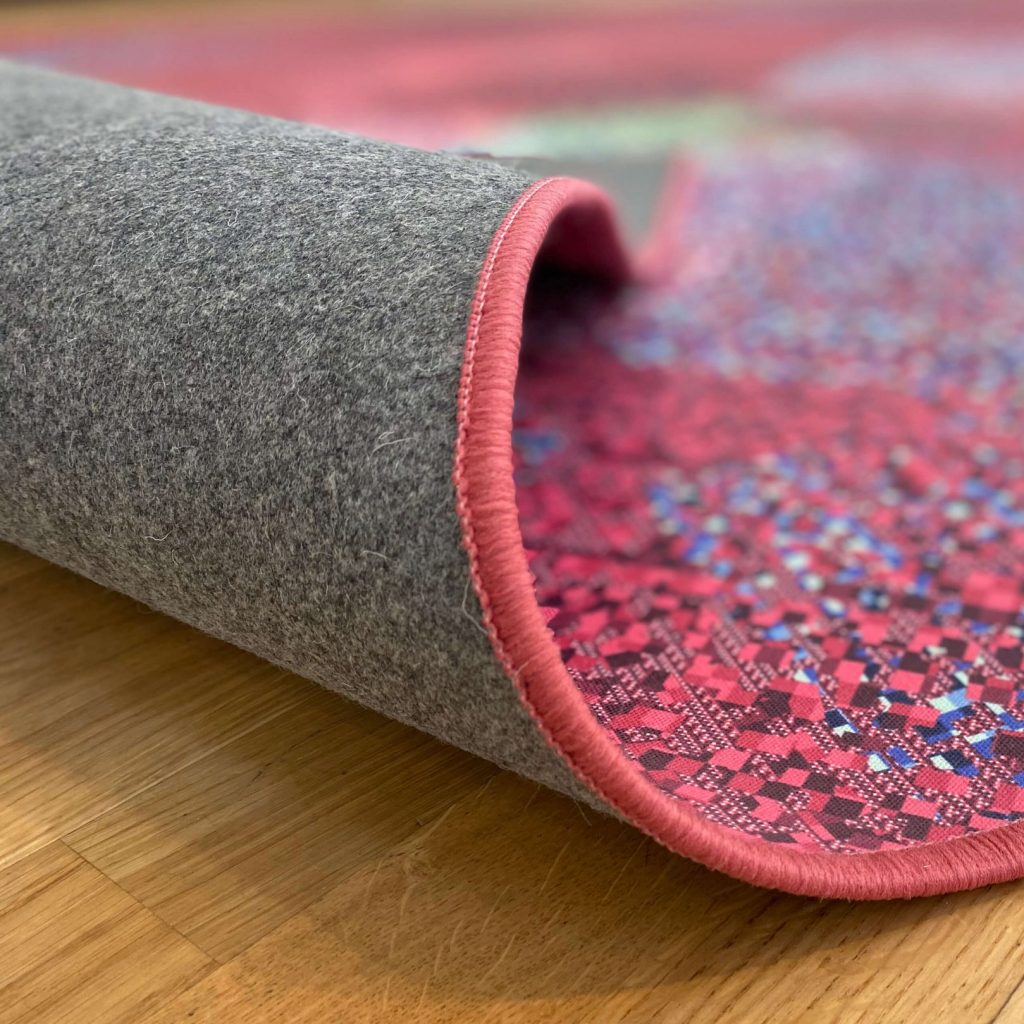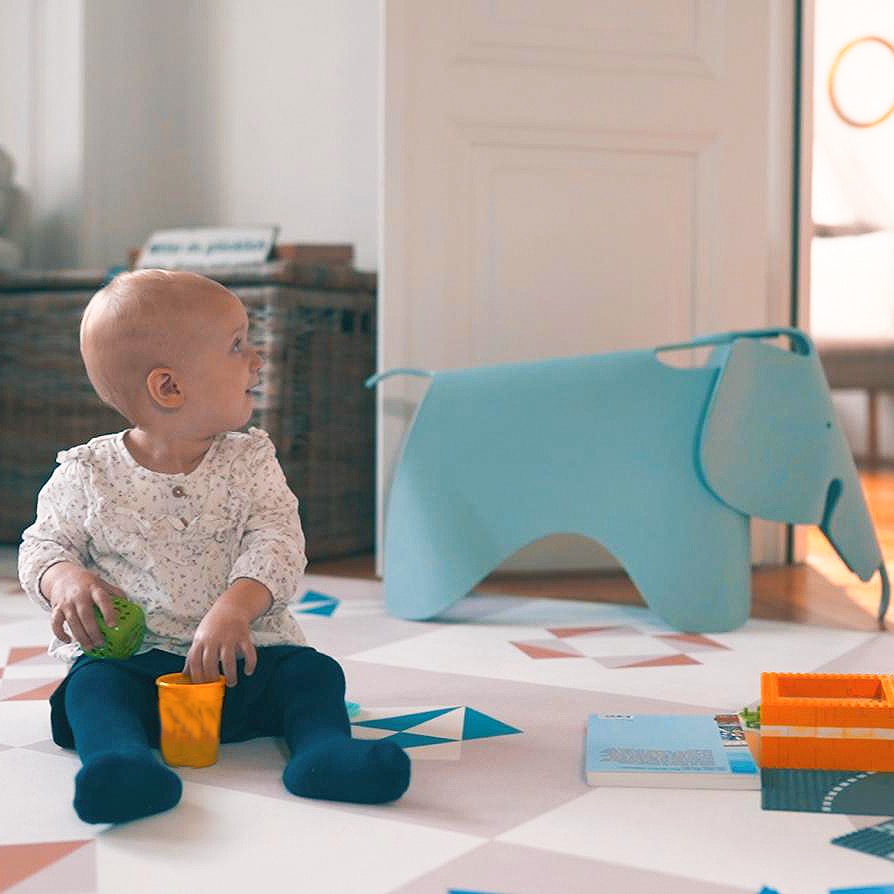 RESILIENT SUPPORT FROM (S)WADDLING TO WALKING
Sociologist, Emmi-Pikler pedagogue and Montessori-trained sensorial integration specialist Claudia Lohinger told us of a common misperception that toddlers need heavily-padded playing cushions so they won't hurt themselves while they practice standing up and taking their first steps. She argues that a robust surface is needed so that children can build the necessary strength and coordination by repeatedly pushing themselves up and balancing their weight:
"Too much cushioning is detrimental to physical development. A resilient surface is really important for babies and toddlers to exercise and build much-needed muscle tone."
Our felt-back, cotton-base flooring provides the kind of slightly-padded and finely-textured surface ideal for safely practicing push-ups, learning to crawl, standing on one's own two feet all the way to mastering a handstand.
Due to their smoothly-coated plain cotton weave, our Ducks at play don't trap any small pieces and an accidental fall won't cause carpet burn.
On a polished floor, a thin anti-slip underlay helps to keep the Duck in place and softens each step to taste while the youngest, smallest feet can still exercise self-awareness and develop their sense of autonomy in the world.
And if you and yours feel like a snuggle or a quiet read, lay down a warm blanket, bring a big, cushy pillow, add to those a plate of cookies and your favorite cup of tea – and camp out on your Duck.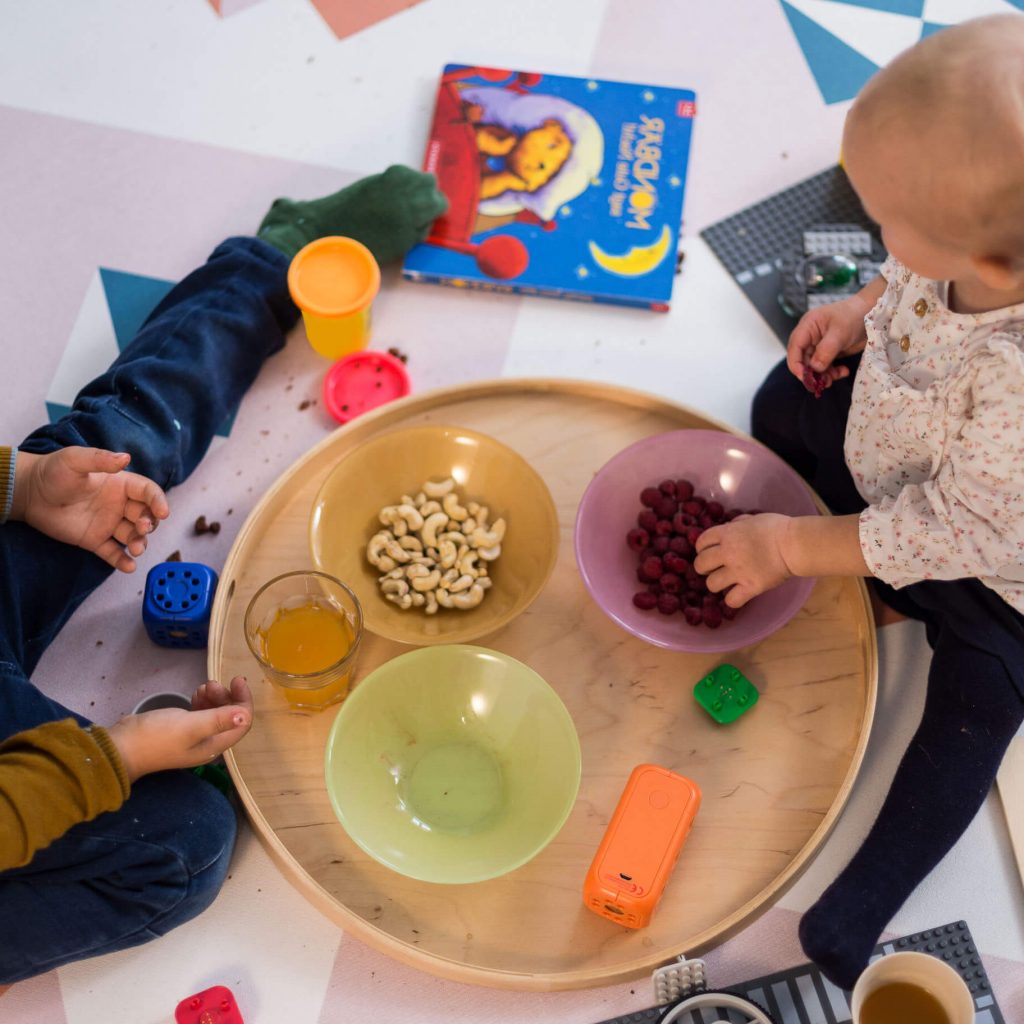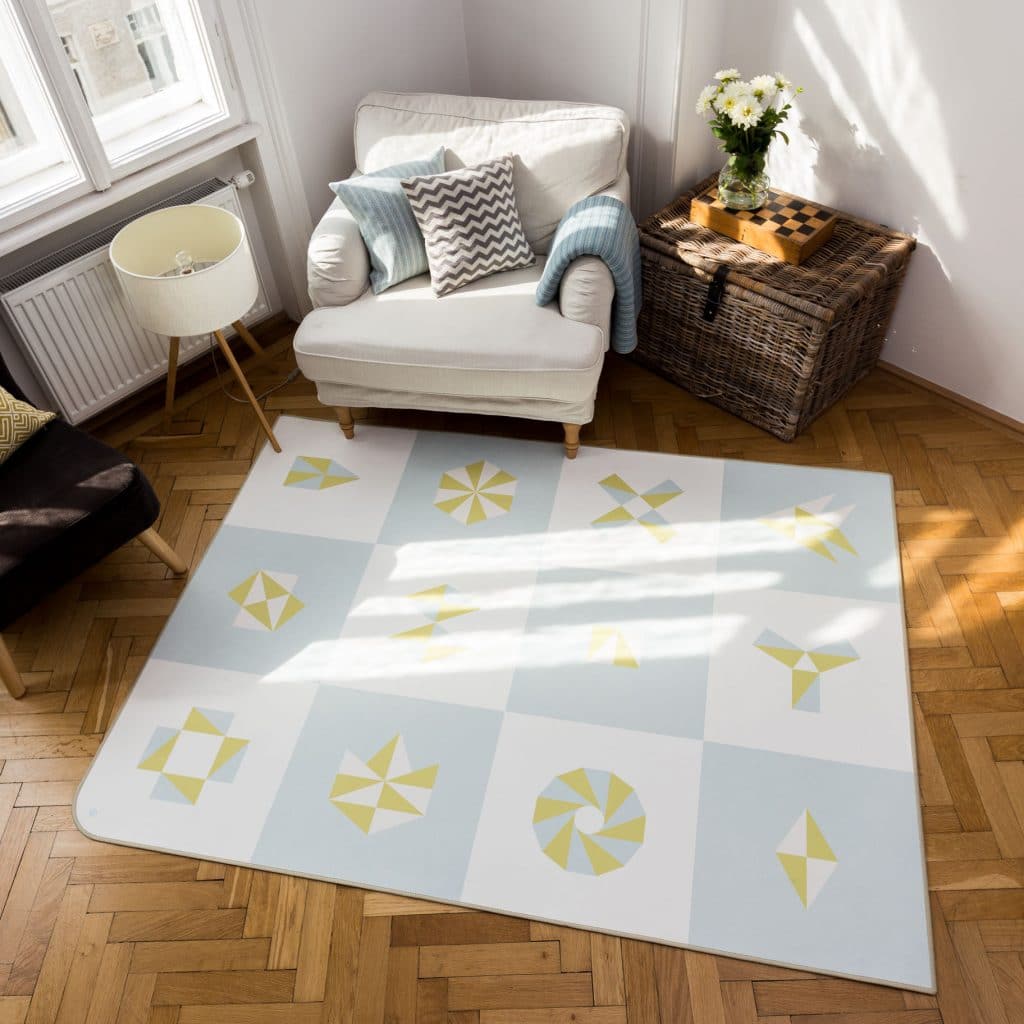 Our children remind us every day to stay connected to the loveliness we truly carry in our hearts.
Love a Duck is all about celebrating our many passions and individual purposes in life. Our floor coverings are dedicated to all the courageous adventurers, patient makers and devoted inventors in pursuit of their calling, be they small or big, young or old, timid or outgoing, X or Y or Z.
For each and every single one of you and for everyone among you who wants to bring more happiness into their lives, we make rugs that look great and are super easy to clean in support your unique journey.
SPREAD YOUR CANVAS! AHOI!